Skills For Good Festival 2023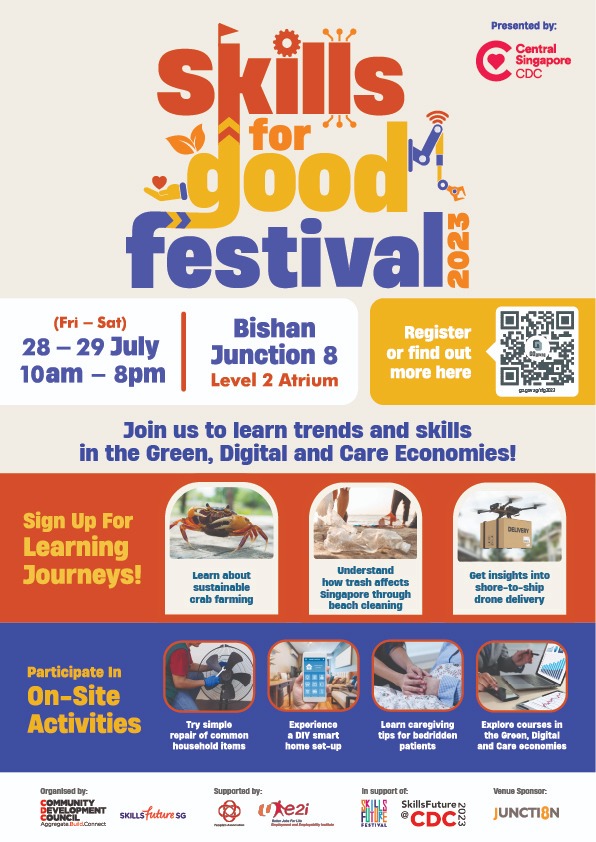 Organised by Central Singapore Community Development Council, the Skills for Good Festival 2023 aims to promote skills for the good of Self, Community and for Life.
This year's edition will feature new learning journeys where participants go on learning field trips across Singapore to learn firsthand from industry experts about trends, jobs and skills in Singapore's key growth areas – the Green, Digital and Care economies.
Skills For Good Festival 2023 Event Details
---
Date: Friday – Saturday, 28 - 29 July 2023

Time: 10am - 8pm

Venue: Bishan Junction 8 Atrium, Level 2
Special Segment
---
1. SkillsFuture Advice
Fri, 28 July 2023 (6.30pm-7.00pm) and Sat, 29 July 2023 (6.30-7.00pm)

Join us to learn:
Latest workforce trends & emerging skills
Tips to kickstart your learning journey
Useful resources for your career & personal development
2. Learn the Art of Storytelling
Fri, 28 July 2023 (5.30pm-6.00pm)
Ever heard the phrase "facts tell, while stories sell?" How do you convince someone that you're the right candidate to hire? Join us at this workshop and discover how stories can improve your ability to convey your value to the potential employer and create a powerful impression.
3. Create a Concise and Persuasive Introduction of Yourself
Sat, 29 July 2023 (5.30pm-6.00pm)
Learn how to tackle the question – tell me more about yourself? Craft your elevator pitch with the right structure and content to score a home run with your interviews.
Learning Journeys
---
Participants will leave from the event venue (Junction 8) for the Learning Journeys.
(Pre-registration required here, visit https://go.gov.sg/sfg23-reg for more information.)
Gain Exclusive Insights Into Shore-To-Ship Drone Operations And Singapore's Rich Maritime Heritage!
Skyports Drone Operations and Maritime & Port Authority of Singapore
Get exclusive access to the Maritime Drone Estate and witness a live commercial drone flight out to sea. Speak with drone pilots about their work and what it takes to be part of this growing industry. Complete your journey with a visit to the Singapore Maritime Gallery and engage in a dialogue on maritime career with an industry representative.
Visit A Sustainable Crab Farm
Pacific Aquaculture
Learn how this indoor farm uses intricate technology to recreate the natural habitat of crabs. Find out about the Recirculating Aquatic System and how it helps to reduce water usage. You will also have the opportunity to purchase some live crabs home!
Understand How Trash Affects Singapore Through A Beach Clean-Up!
SG Beach Warriors
Gain awareness on water pollution and how it affects marine organisms and eco-lifestyle. You will get to participate in data collection on trash and understand how it affects our environment.
Embark On A Learning Marathon On Our Water And The Environment!
Public Utilities Board
Visit the NEWater Visitor Centre, Marina Barrage, and the Sustainable Singapore Gallery to learn about water purification technologies. Hear the Singapore Water Story and understand the importance of water conservation.
Learn About Sustainbility And Participate In An Upcycling Workshop

Public Utilities Board and Central Singapore Community Development Council
Visit the Sustainable Singapore Gallery to understand the different aspects of sustainability in Singapore. Learn how to reduce plastic waste by converting unwanted plastic packaging into a bucket for simple storage at home.
On-site Activities
---
Cultivate Repair Habits And Contribute To Sustainable Living
Sustainable Living Lab
The on-site "repair gurus" will teach you how to change a 3-pin plug. You will also get to learn how to stitch using basic sewing techniques. These essential home repair and maintenance skills will help you save money and save the earth at the same time!
Reduce Food Waste with Innovative Recipes
Asian Culinary Institute Singapore
Why let good produce go to waste? Learn what you can do with leftover food to reduce food waste and create tasty meals.
Grow Vegetables In Your Kitchen
NTUC Learning Hub
Get your hands dirty and learn how to grow your own greens through repotting. Learn the benefits of home gardening and how to care for your plant.
Be Amazed By How You Can DIY Your Smart Home!
Institute of Technical Education
Never get out of bed to switch off the lights anymore! Learn to use mobile applications, smart plugs and smart voice to activate your home devices. Replicate the set-up to enjoy the convenience at home!
Try Your Hand At 3D Printing Simulation
Nanyang Polytechnic
Get up-close to a 3D printing machine to find out how it works its magic! You may also get to bring home a 3D printed keychain.
Experience A Day As A Drone Pilot
Skyports Drones Operations
Try a drone simulator and let your learning journey take flight! Come view the industrial drone on display. Speak to the drone pilots and hear first-hand what it is like to work in the commercial drone industry.
Understand Digital Safety
Association of Information Security Professionals
Worried about the rising scam cases? Play a cyber hygiene game to learn more about online scams, malware and phishing. Secure your devices and online platforms with tips on creating strong passwords. Exciting prizes to be won!
Improve Your Life With Digital Skills And Knowledge
Infocomm Media Development Authority
Say goodbye to queueing at the bank! Learn how to use digital platforms and mobile applications to perform transactions. Explore online communication tools like ZOOM to connect with your friends wherever you are.
Leverage Technology To Track Your Physical Health
Lions Befrienders
Check your height & weight, BMI and blood pressure at the IM-OK machine to see if you are OK! If you are lucky, you may also get to meet and interact with Dexie, the Social Robot.
Learn Care-Giving Techniques for Bedridden Patients
Centre For Seniors
Watch a live demonstration by healthcare professional to get caregiving tips. Try your hand at body cleaning and diaper changing to help a bedridden patient maintain personal hygiene.
Be Equipped With Proper Nasogastric Tube Feeding Techniques
NTUC Learning Hub
Precision matters – learn the importance of formula food measurement, food preparation hygiene and proper positioning of the patient during feeding. Gain tips to promote the patient's well-being and comfort.
Your Guide To A Healthier Meal
Primary Care Academy – National Healthcare Group Polyclinics
Learn how to pick the right food to increase your nutrition intake! Improve your understanding of food labels so you can make healthier choices.
Understand Persons With Disabilities
National Council of Social Service
28 July 2023
Put on the VR googles to understand how a person living with dementia reacts and thinks in different environments. Acquire knowledge about how you can support them.
29 July 2023
Test your brain power with interactive games. Learn how these brain processes can help unlock potential in individuals with learning disabilities.
Skills and Training Ambassadors
SkillsFuture Singapore
Speak with Skills Ambassadors who can help you identify the skills and training needs to achieve your career goals. Get advice on suitable courses and course providers that cater to your needs. Know the various assistance schemes available to support your skills upgrading efforts.
Career Coaches
Employment and Employability Institute
Speak with career coaches to gain better clarity about yourself, as well as the employment and training landscape. The coaches will help you:
Develop greater self-awareness;

Understand your career interests and preferences;

Recognise your work motivations;

Assess your strengths and share tips to overcome barriers to employment